Social Media 101 - 5 Social Media Tips for Newbies
Aisling Brennan, 26-Feb-2016
Unless you've been living under a rock for the past twelve years you've most likely heard of (& most likely have accounts with) Facebook, Twitter, LinkedIn, Google+, Instagram and/or Pinterest.
In fact, according to Ipsos MRBI's Social Networking Quarterly survey (August 2015), 67% of the Irish population has a Facebook account, 28% has a Twitter account and 23% a LinkedIn account. That's a lot of social networking being done in our little country.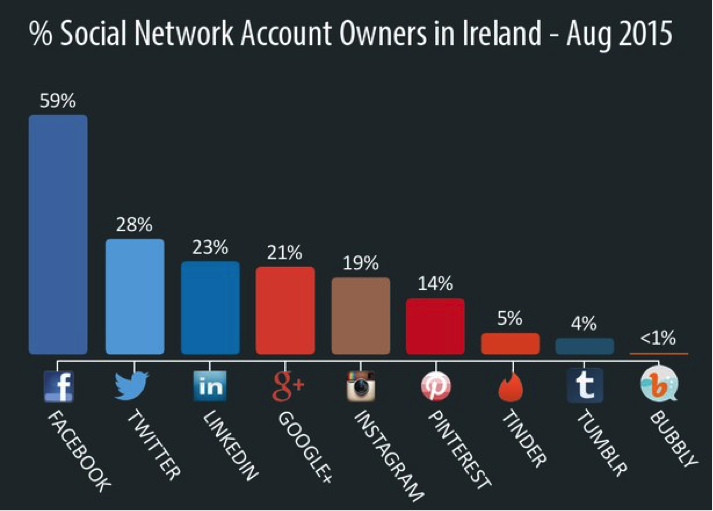 So, What is Social Media?
Essentially it's a way for people to communicate and interact online. From a business and marketing perspective, it's a way business can communicate and interact with customers, build an emotional connection and grow lasting relationships with them, even at a local level.
Whether you're listening or not, these customers are having conversations about your business online. Surely, it's better to participate in that conversation rather than stick your head in the sand and avoid it?
Which Social Network Works Best for Business?
Ultimately that depends on your customers. Most likely, you have limited time with limited content to hand, and a specific audience you want to reach.
Many B2C companies often find success with Facebook, whereas B2B companies tend to focus their efforts on LinkedIn and Twitter. However you may find that Instagram generates your biggest sales, Twitter produces the most leads; Facebook is where your brand is discussed most, and LinkedIn or YouTube may be where your most valuable business partner is. You need to do a little digging to figure this out.
Interrogate your Google Analytics data. Which social channel is delivering the most traffic? What are the conversion rates of that traffic from the various networks? Who are the main influencers in your sector? Search for them on each network. Find where the conversation is happening.
Determine what content is resonating most with your audience. Which articles are most commonly shared? Whether it's bespoke content you created or content you simply shared and on which social network were they shared the most (and least). By answering these questions will help you determine which social network is best for your business.
Social media is time-consuming but an important reality for new business. Doing this necessary groundwork will help you focus your efforts on the right content/social network that delivers the best return for your growing business.
Tips for Social Media Newbies:
Choose a consistent name ("handle").
Whichever name you choose should be used consistently across all social media. Each social network profile page should be consistent with your website in look, feel and tone. This is vitally important - ensure you have consistency in your branding.
Create a Content Strategy Content Calendar.
I'm sure you have limited content to hand. But think of ways you can repurpose this existing content into some of the following (get creative!):


| | | | |
| --- | --- | --- | --- |
| BLOGS | ARTICLES | CASE STUDIES | WHITEPAPERS |
| WEBINARS | eBOOKS | NEWSLETTERS | TWEETS |
| INFOGRAPHICS | INDUSTRY DATA | TREND REPORTS | PHOTOS |
| PODCASTS | PRODUCT DEMOS/TUTORIALS | PRODUCT REVIEWS | HOW-TO VIDEOS |
| EVALUATION GUIDES | PRESENTATIONS | ROI CALCULATORS | PRICING GUIDES |

Create a calendar of relevant content you commit to creating. Hire a freelance copywriter if needs be – reach out to journalism or business students to assist here if budgets are tight.

Aim to blog once per week, post on Facebook/Instagram/LinkedIn 5-10 times per week and Tweet 25-30 times/week. Keep at it. Abandoned and stale profiles are worse than no profile at all – keep building & nurturing those relationships.

Share the Correct Mix of Content
This is important. Ensure you include original content that's of value to your audience along with a dash of self-promotion and testimonials. You're trying to build trust and credibility with your audience. Don't bombard with promotions and offers. No one likes a blagger or SPAM. Aim for at least 90% relevant valuable content and no more than 10% self-promotion. Get that balance right.
Start Networking
Start following influencers, experts, brand companies and publications in your sector. Set aside 15 mins each day to read your feeds. Retweet their articles, like their posts, share updates, comment on their blogs and link to their content. Be nice.
Make Social Easy
Share social icons or usernames on your website, business cards, email signatures and marketing materials. Make it easy for your customers to find and follow you. Consider Social as simply another way to communicate with your existing and potential customers.